The month of June 2022 saw us celebrate the women supporting the Women & Girls' game here in Surrey, through our Women in Surrey Cricket Awards.
Each week saw a different category and we received nominations for a whole host of deserving winners.
Read on to learn more about the winners of each category.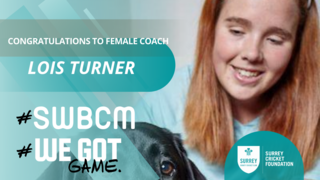 Lois Turner was the winner of the Female Coach category, and won a pair of tickets to the England vs South Africa test match at the Oval.
Not only is Lois an assistant coach for the Surrey Cricket Visually Impaired team, she is also captain of Surrey VI national league team, captain of the UK women's team, represents Great Britain in goalball and is studying for a masters degree!
Her nominator, Mark Allen, says "Anyone who has ever had the privilege of meeting Lois is immediately inspired by her, she is not only a hugely talented cricketer, but is instrumental in not only coaching cricket, but also passes on life skills that give anyone with a disability the confidence to express themselves.
As her coach at Surrey for the past 10 years I have seen Lois change people's lives in front of my eyes, as well as inspiring players, Lois is also a role model to all, including myself.
coaching, organising transport, sorting out sigh categories, advice on pips, first aid, nothing is ever too much trouble for Lois.
No words can really be said that truly sum up that someone as young as Lois can do what she does and seeks no credit or praise."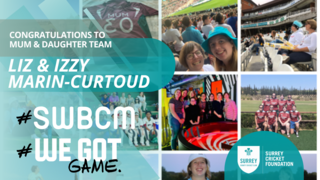 Liz & Izzy Marin-Curtoud from Streatham & Marlborough Cricket Club were the winners of our Mum & Daughter category, and won tickets to the England vs South Africa test match at the Kia Oval.
Multiple nominations were received for this duo, and here are just a few of the amazing comments:
"Liz and Izzy both mean so much to the spirit, strength, and legacy of the women's and girls' sides at SMCC"
"Liz and Izzy have represented the essence of a mother-daughter partnership at the club."
"They have been a great support and inspiration not only to each other in their cricketing stories so far but to the next generation of mums and daughters coming through our SMCC ranks too."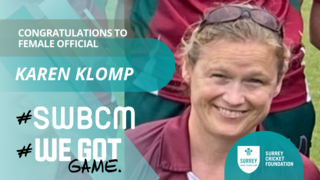 Karen Klomp from Streatham & Marlborough Cricket Club is the winner of the Female Official category, winning a pair of tickets to the England vs India ODI at the Kia Oval.
Her nominator Meg says: "Karen became the SMCC chair at the end of 2019, the club's first female chair and has been a fantastic leader.
Karen's values shine through in all her interactions: inclusion, equality, participation, balance, measure, fairness, and fun.
She shows great determination in her work and is a champion for all aspects of cricket. With her at the helm, SMCC is a growing club that cares about its members, plays great cricket, and thinks about the future in terms of taking the aspects like sponsorship, fundraising, and participation to the next level.
Most of all Karen encourages us all to promote the positivity of the club, communicate and share about successes and updates, and step forward to be active in the ecosystem of the club. She is a true leader in terms of paving the way for inclusion."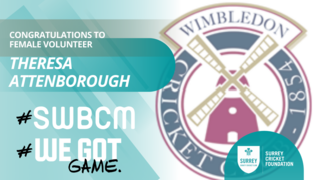 Teresa Attenborough from Wimbledon CC was the winner of the Female Volunteer category and received a pair of tickets to watch the England vs India ODI at the Kia Oval.
Her nominator Mo Haque wrote "It is not an overstatement to say that without Theresa, women and girls cricket would barely exist. And would be nowhere near as successful as it is now.
She is completely dedicated to ensuring girls cricket thrives. She has motivation and commitment. From four years ago she was often the only person running u6s games. She has continued to do so with no personal agenda.
She turns up to matches of all age groups. This year for instance she went to Dulwich to help organise an U9s game, and set up a pitch at home for u11s, despite having no children there. This is common for her.
She helped set up the teams and has brought together a core of girls who have become close friends. Everyone at the Club knows her as the face of female cricket. She has the interests of all the girls at the forefront of any decision she takes.
She runs the Social aspect as well, encouraging girls and parents to attend every Friday.
Wimbledon is a happy ship largely down to her efforts over the last few years."
We would like to extend a big thank you to everyone who works so hard to develop the women and girls game across the county, as well as those who have helped us recognise their hard work through these nominations.