We are pleased to announce the winners of the Surrey Women in Cricket Volunteer Awards 2023! We received lots of fantastic nominations highlighting the amazing volunteering work being done across the county, helping ensure that women and girls are confident and empowered to play and enjoy cricket. The winners have all been invited to watch a game next season from the SCF box at the Oval – we very much look forward to seeing them there to celebrate their contributions in person!
A summary of the winners and runners up for each category is below:
Unsung Hero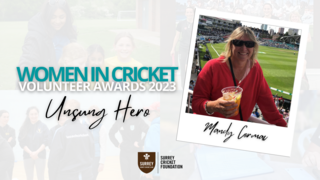 The winner of the Unsung Hero award is Mandy Cormack from Malden Wanderers! Her nominator describes her as "a fantastic ambassador for the club and always does things for the betterment of others", most recently creating a female changing room in the clubhouse to ensure there are suitable facilities for women and girls at the club. Congratulations Mandy!
Runner Up – Kirstie Currie
The runner-up for the Unsung Hero award is Kirstie Currie from Sanderstead! Her nominator says she works extremely hard behind the scenes to make sure Sanderstead comply with their safeguarding duties – a very important role that often goes unrecognised. Congratulations Kirstie!
Female Coach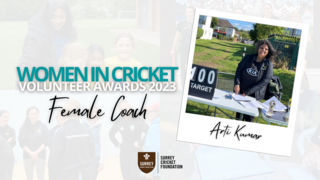 The winner for the Female Coach award is Arti Kumar from Thornton Heath! Her nominator says she has "empowered countless girls who were previously marginalised, providing them with an avenue to realize their potential". Congratulations Arti!
Runner Up – Lorraine Hiscock
The runner-up of the Female Coach award is Lorraine Hiscock from Sanderstead! Her nominator describes her as "a real inspiration to our members and a leading light on our junior girls teams". Congratulations Lorraine!
Special Mention – Lottie Chatfield
A special mention in the Female Coach category goes to Lottie Chatfield from Valley End. She coaches the pan-disability youth cricket section at Valley End and her nominator describes her as a fantastic role model who the younger players look up to. Congratulations Lottie!
Female Official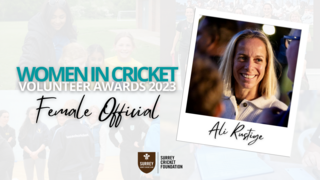 The winner of the Female Official award is Ali Rustige from Merstham! As captain and committee member, she has made a real difference to the women and girls at the club, and has also encouraged the men's section to get involved, creating an integrated and inclusive club for all. Congratulations Ali!
Young Volunteer
The winner of the Young Volunteer award is Darcey Hepden from East Molesey! She received multiple nominations for her dedication to the U6&7 girls teams, with one nominator saying "she shows a lot of young girls the face of the future of girls cricket and is someone they can aspire to be like". Congratulations Darcey!