Wimbledon are national champions for the third time after winning the Vitality Club T20 final.
They beat Sandiacre Town by 15 runs at Derby on Sunday to continue their remarkable record in the competition.
Nick Welch (38), skipper Jonathon Webb (29), Tim Lloyd (24no) and David Scott (25) ensured Wimbledon made 140-4 from their 20 overs after being sent in, reaching 52-0 in the powerplay and being 81-2 at halfway.
Sandiacre Town – with the advantage of being in Derbyshire – responded by being 52-2 from their first six overs and were 72-3 midway through the reply. But despite Muhmmad Bin Naeem's 35 early on and Connor Marshall's 28 they collapsed to 125 all out in the 19th over.
Doing much of the damage were Scott Conway (3-23) and director of cricket Jonathan Speller, whose 2-20 completed Wimbledon's victory.
The Premier Division side, who finished fourth in the just-completed season, won the national T20 in 2012 and 2013 and were finalists in 2010 and 2017.
Wimbledon set off on their pursuit by winning the Surrey Championship's T20 competition, the Edwards Cup, overcoming Middleton and Havant in the area stages before beating Wanstead & Snaresbrook and Swansea in the regional finals.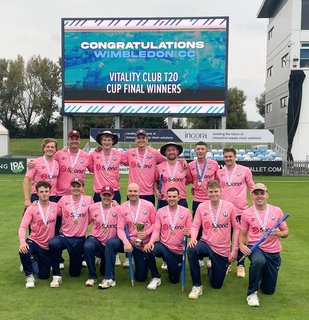 It wasn't such a happy finish to the season for Walton, who suffered a heavy defeat in the Conference Cup final at Camberley.
Sending Hornchurch into bat, they could not prevent the Essex side running up an impressive 319-4 from their 45 overs through Paul Murray (74), Lesbourne Edwards (61) and Adeel Malik's punishing 66 from 43 balls. Chris Cole claimed 2-49 from seven overs.
Yusuf Hafiz led the reply with 81 but the next best was wicketkeeper James Madoc-Jones's 39 as the AJ Surrey Championship first division side were dismissed for 213 in the 37th over. Adeel Malik (4-35) and Marc Whitlock (3-37) were the prime destroyers.