On Thursday 5th May, during the lunch break in the LV County Championship match between Surrey and Northamptonshire, walking cricketers from three teams, Pirbright, Cobham and Epsom, took to the hallowed turf of the Kia Oval to showcase this exciting new format of the game.
The players were joined on the day by Coaching Centred Leadership, who have recently been announced as our first sponsor of Walking Cricket in Surrey.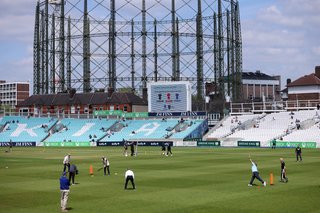 Whilst walking cricket has existed in pockets around the country as far back as 2014, the first centres offering the game in Surrey began playing in 2021. Coaching Centred Leadership has seen first-hand the impact the game can have on the lives of older people and came forward wanting to support the growth of the game in Surrey.
The sponsorship will help to cover the costs of delivering the inaugural Surrey Walking Cricket Cup which will see 4 teams competing in coloured kit across the season as well as helping the Foundation to begin developing more awareness of this exciting format with the aim of encouraging more clubs to offer Walking Cricket as part of their club programmes.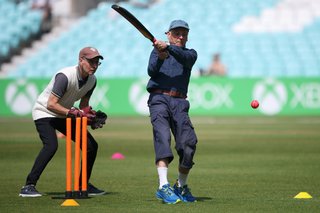 Ian Milton, Managing Director at Coaching Centred Leadership said, 'At Coaching Centred Leadership (CCL) we are delighted to sponsor walking cricket as we believe in the pursuit of excellence, in fact it's one of our values.
This belief is for any walk of life so when we saw the opportunity to get involved in this initiative, we thought it would fit not just with our company values and give great benefit to the community, but also to provide an outlet for people to really embrace the idea of getting together and having that sense of purpose and belonging.
CCL, in its leadership capability, deliver programmes and activities that are sustainable over time and are embedded in the way people do things in work and in their private lives. Walking cricket is one of those activities which we believe can be sustainable for supporting a fit, social, active and healthy lifestyle with a sense of camaraderie.
We are an inclusive organisation and therefore the promotion of walking cricket is something that we believe will make a difference to peoples' lives.
The partnership with Surrey Cricket Club is ideal as we both have a similar belief that inspiring new and seasoned generations of cricket lovers is alongside our belief- that we can also inspire people and leaders to lead positively, effectively and with excellence.'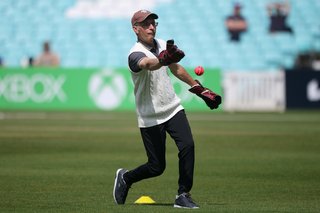 Assistant Director of Cricket Participation, Simon Hards, added, 'Walking Cricket provides the game with a fantastic growth opportunity and at the same time will enable clubs to provide cricket for social good as well. We know that Walking Cricket is about much more than playing the game. It helps older people keep physically active, supports mental health and provides the opportunity for socialising with other like-minded people for some who may otherwise feel isolated.
We are looking forward to supporting the growth of Walking Cricket centres across Surrey over the coming years and are absolutely delighted that Coaching Centred Leadership share our vision for what the game can offer.'
If your club is interested in finding out more about Walking Cricket, please contact foundation@surreycricket.com.