The Easter holidays 2022 saw the return of the Vauxhall Loop activity week, our free holiday club offered to children from schools local to the Kia Oval.
We linked up with a number of local groups and providers, and the week was jam packed with a range of exciting and educational activities - not just cricket!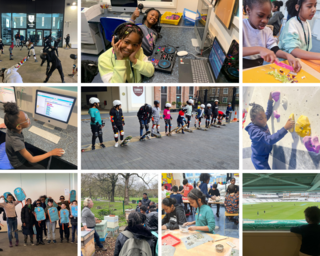 From rockclimbing to bee keeping, DJing to skateboarding, there was something to keep everyone entertained.
Children were also provided with both a breakfast and packed lunch each day, and got the opportunity to experience coding and IT sessions at the Ben Hollioake Centre here at the Kia Oval.
We would like to thank the following providers for the fantastic sessions that they provided throughout the week.
Arts & crafts at Art4Space
Bee Keeping with BEE Urban
Skateboarding with Urban Studio Sessions
Performing Arts with the Boury Academy
Cricket with the Surrey Cricket Foundation
Farming with Vauxhall City Farm
Rock Climbing with Vauxwall Climbing Centre
Gardening with VGERTA
Sports with Black Prince Trust
Cooking with the Soul Shack
IT/Coding with the Ben Hollioake Learning Centre
DJing with Wrights Academy
We now look forward to the Summer when the Vauxhall Loop will return, offering more fun activities within our local community.