Monday 15th May saw us welcome over 550 young people from special educational needs and disability (SEND) schools and community groups, along with their carers and teachers for a brilliant day of activities at The Kia Oval.
Throughout the day, the attendees got the opportunity to take part in a wide range of accessible cricket activities as well as a host of other activities with Fulham FC Foundation, Palace for Life Foundation, Harlequins Rugby, Googly Cricket, Urban Studios and Shoot4Goal. ​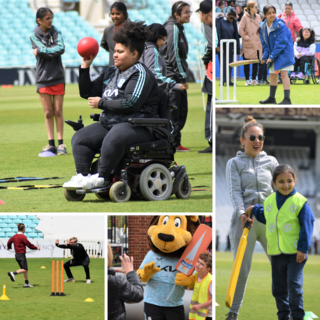 Our disability cricket sponsor, First Sentier Investors, supported the event and provided around 50 volunteers to help run the activities. We were also joined by volunteers from Mazars, Ayer Associates, Ingeus and Prince's Trust, in addition to the ambassadors from the Club.
Our disability Development Officer Neil Bunting, said "Disability Day is when we get the opportunity to invite young people with any additional needs to The Kia Oval, give them a nice day out and enjoy some cricket-related activities, and for it to be genuinely inclusive. We run a variety of programmes across the county, south London and rural Surrey throughout the year. We go and deliver cricket in SEND schools and mainstream schools that have a SEND component. We also run nine weekly, inclusive programmes, which are open to any young person up to the age of 25, to come along and play cricket.
Sarah Lynch, Cricket Participation Manager, said: "Disability Day is one of the highlights of the Foundation's calendar. It is a visual demonstration of some of the impact that the foundation's work has. Today has been a real celebration of everything the foundation does in disability cricket."
Michael Sanderson, a PE teacher at Carew Academy, said: "To come to a place like the Oval, where England and Surrey play, it's really good for the young people to experience it… and what they get out of it is pure and utter enjoyment. I'll get them back to school and tomorrow I'll probably be playing cricket with them because that's what they'll want to do in their PE lesson… One of them already asked me if we're coming again tomorrow!"