The scorecard can be found at Surrey Cricket (play-cricket.com).
The ACE captain won the toss and chose to bat first. After Oscar Arzente took an early wicket, the SSCA bowlers struggled to find their line and length. The ACE batsmen dispatched the wayward bowling to all parts of the field, scoring at 8 an over. The introduction of leg-spinner Vaidyanath accounted for the wicket of Topley, but Kamario Grant (100*) and Ahsan Salim (73) continued to scored heavily. Despite 2 late wickets for Ned Brown, the ACE total continued to grow to 277-6 from their allotted 35 overs. SSCA were soon in trouble at 17-3 before Harry Bowen and Dhananjai Singh started to rebuild. While Singh (39) dug in, Bowen mixed solid defence with some excellent ball striking as he went to 57 from 42 balls, including 8 * 4's and 2 * 6's. The target was always going to be tough and SSCA finished on 185-8, to lose by 92 runs.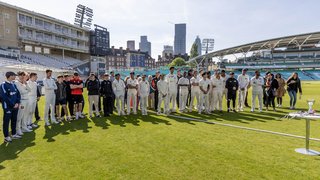 Players, parents, SSCA and ACE are very appreciative of the opportunity for the boys to play at The Kia Oval in the 52nd Hobbs Trophy match, especially in this most congested of seasons. Thanks to all involved at SCF and The Kia Oval.