On Sunday 7th August 2022, Surrey Cricket Foundation hosted the annual Grassroots Cricket Awards at the Kia Oval.
Volunteers who were nominated by their cricket club or community, along with their guests, packed out the Duchy Suite, to enjoy an afternoon celebrating the amazing work going on across the County.
As well as the awards themselves, a Q&A session was held with Surrey cricketer Daniel Worrall and South East Stars player Emma Jones, and the day went ahead with a backdrop of the Surrey vs Warwickshire Royal London Cup match taking place on the Hallowed Turf under warm summer weather.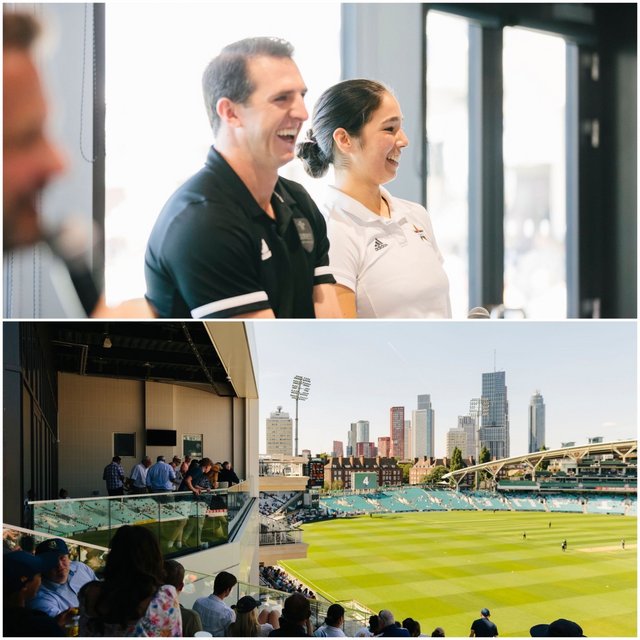 Ten awards were handed out on the afternoon to very deserving winners. Please take the time to read more about each winner below.
Connecting Communities winners: Frimley CC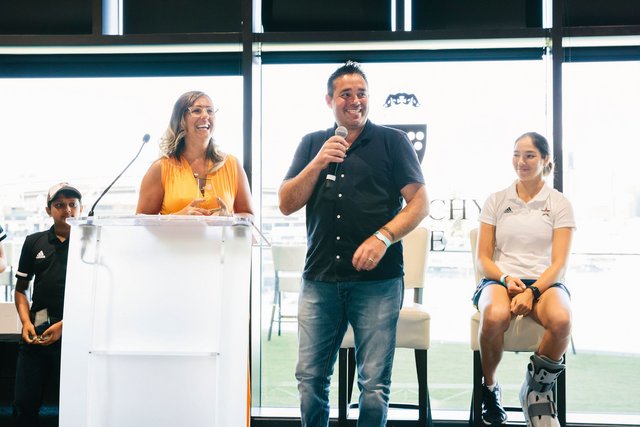 At the start of the Ukrainian War John Hebditch, as Director of Cricket opened up the cricket club to support the local community and our wider European Community. The vast amount of donations that went through the club was unbelievable. As the lead planner John organised logistics and supply chains from Frimley into Ukraine and surrounding countries. Frimley CC have built relationships with the Surrey VI County side. Also supporting connections to Peper Harrow and Camberley as overflow grounds. Frimley have the new Tomlinscote school connection: Tomlinscote use the FCC nets and pitches for school cricket, without this in place the community would not have a secondary school cricket team. The final link is an Asian Tapeball league for 97 community members. Frimley Cricket Club is in the heart of the community and is committed to providing an environment in which children are able to realise their potential in the sport of cricket. Tomlinscote school will have use of the fantastic cricket net facility for training and artificial wickets for matches. This relationship is the first of its kind for the club and we welcome Tomlinscote to the home of cricket in Frimley.
Cricket Innovators winner: Matt Bradshaw – Kenley CC
Matt has been the spearhead of our club's transition to a digital members management system. He has
built our website, and a complete members database which now allows us to plan our games and training sessions in advance. He has spent hours integrating our membership database and uploading it on to our
new system. He has also helped us move to a cashless system, integrating our payment systems and making it easier for us to collect match fees and subs. The changes he has brought in has had a massive impact on our club, we are better able to communicate with our members and in turn able to have better attendances to all the various programs and initiatives we run during the season.
Game Changer winner: Billy Sewell – Wimbledon CC
Billy is an indispensable asset to The Wimbledon Club, and it is hard to believe that he is still only 21 years old! Billy captains our U21 Academy team, he is always mentoring & coaching them during training sessions and always brings out the best in their development.
Billy is the lead coach of our U10 Boys age group and is involved at all levels from coaching to event/fixture management, communications with opponents or our Parent Volunteers and is even partial to spending his Sunday afternoons watching his and other junior sides compete. Billy has helped raise our social media profile, and tirelessly works on the results imagery and postings
on Instagram, Twitter & Facebook. Billy steps in as an umpire in friendly games, is happy to score and never misses an opportunity to get the music on for social times. An avid Karaoke man, his role as social sec of the adult section is just one other feather in his Don's hat with a full schedule for the Adults to take part in! No job is too big for Billy, and we are forever grateful to
him for all his selfless work.
Growing the Game winners: Martin Kovats – Southwark Park CC and Sanjay Patel – Salfords CC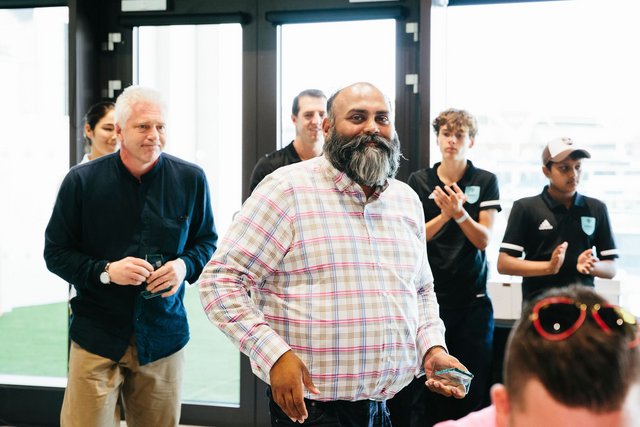 Martin Kovats: Five years since Martin formed SPCC, wow how it has grown. This year SPCC: Played their first ever women's match on the historic Southwark Park ground; Runs both Dynamos and All Stars Sessions for over 50 local children, almost all from Bermondsey, a low income
neighbourhood with recently little cricket; Gained council support and external funding for a league
quality pitch and ground redevelopment; Repaired storm damage at the park public nets, which are
in constant use; Enabled over 50 people to play for an SPCC men's side including many who have
recently moved to the local area and are building new communities; Kept cricket accessible by ensuring we have sufficient funding to charge zero annual subs, have a reduced match fee for the unwaged and provide full cricket kit to those who cannot provide their own;
Under Martin's leadership SPCC is open to all. In 2022 literally hundreds of people have taken up this offer. A few years ago, Martin ran it all single handed, over the past few years he has built up a committee to enable the club to do even more. None of it would be possible without Martin's vision, drive and commitment.
Sanjay Patel – Salfords CC: Since 2013 Sanjay has worked tirelessly to grow our club, we have gone from 4 colts to now having u8s through to u16s. Sanjay has run countless practices, 1:1 sessions, and events whilst working full time and kept this up during covid providing support to many.
He gives his heart and soul to the club and without him the club wouldn't function. Alongside this he has created our first women's team and girls' team which he also coaches. His enthusiasm for cricket has inspired the community, we now have local people volunteering through Duke of Edinburgh which again he facilitates. Overall, I would like his work to be acknowledged by the wider community.
Inspired to Play winner: Charley Teale – Guildford CC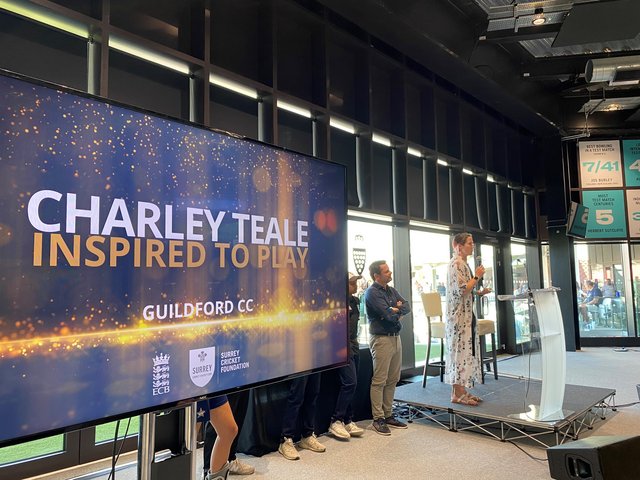 Two years ago, Charley started the girl's section of the cricket club from scratch with an U15 team. Build and they will come was the motto. Through her hard work and commitment, she went to all the local schools and arranged open days and advertising to promote the offering. This year it grew into three teams U13/15 & 17 girls' teams, and we now have over 50 girl players playing competitive cricket. A lot of the girls have never played before, and a number have additional needs.
Charley has ensured training has always been inclusive and committed to growth. The change in the girls towards real teamwork and better communication will help them throughout their lives. The reputation of the program means local clubs are sending girls to Guildford such is Charley's reputation. That is why I believe Charley deserves recognition for her work to open the game to a whole new section of the community.
Rising Star winner: Rohan Handa – Charterhouse School
Rohan, 14, residing in Woking Borough plays cricket at County level and at Charterhouse School, Godalming on a sports scholarship. During the Covid-19 pandemic, Rohan created a YouTube channel called 'Cricket Nuggets' to not only keep himself fit and maintain cricket skills but was dedicated to supporting all kids and adults to keep fit and develop their cricket skills during the uncertain times. 'Cricket Nuggets' has achieved hundreds of subscribers and continues to grow with viewing numbers reaching 250,000 Rohan was awarded as 'Rising Star' by Woking Borough Council Sport Woking Awards 2020 and 2021 - 2 successive years! Rohan's cricket video submissions featured on Sky Sports Cricket kids' coaching clinic segments; The desire to take his love for the game to wider audiences
has led to Rohan being awarded a position on the first ever Chance to Shine Youth Advisory Board. Through this Board, Rohan is assisting to shape the way the organisation supports young people to develop through cricket. Rohan is the youngest board member! What makes Rohan's story all the more amazing, he does this all for love of cricket, making a significant difference through the community and beyond.
Safehands Award winner: Carole Wright – Egham CC/Surrey Cricket Foundation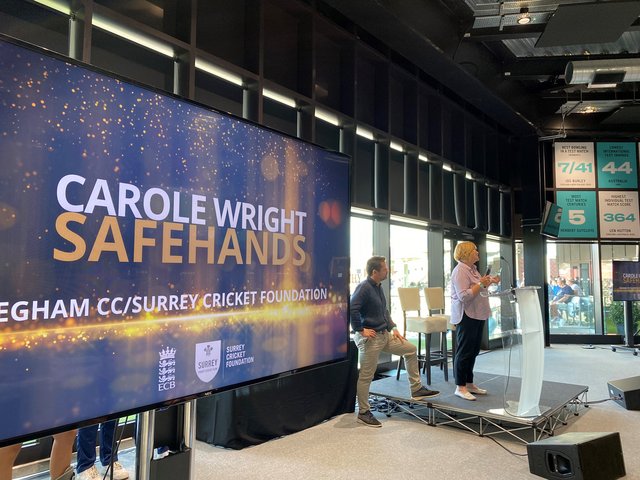 Carole has been the driving force behind the Surrey safeguarding officer's forum and should be recognised for the fantastic work she has done to assist many safeguarding officers from across the county. She initially approached the Foundation with the concept and has then helped shape the forum over the past 3 to 4 years. It provides additional learning opportunities for safeguarding officers as well as a forum with likeminded people to enable discussion and debate about best practice around safeguarding clubs. It's seen as an example of best practice nationally and Carole continues to think of ways to improve and enhance the support on offer. As a result of her work, Carole has become deputy county safeguarding officer, providing ongoing support for Heidi Langrish and ensuring that the network of safeguarding officers continue to receive the support they need.
Unsung Hero winner: Andrew Derham - Horley CC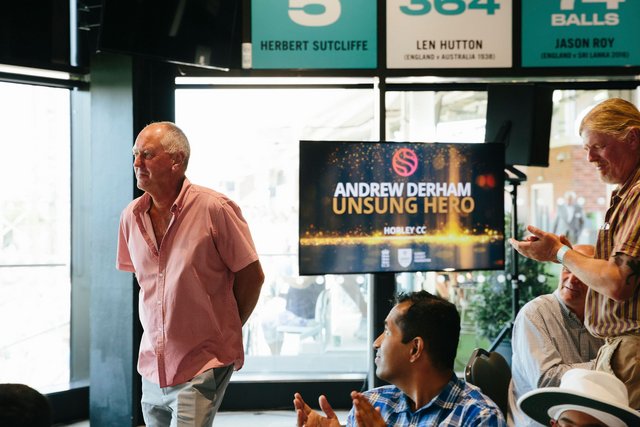 Andrew is Horley Cricket Club's action man. His tireless energy combined with his wicked sense
of humour has shaped Horley Cricket Club into what it is today. In 2008 Andrew started out managing his eldest son's junior side, then co managed his youngest son's team too, taking them both through to U18s. Subsequently he has managed the development team for the last 6 years as well as scoring and washing the team kit! Due to Andrews efforts 10 former juniors are now in the 1st men's team squad. For the last 4 years, Andrew also scored for the 1st team. In addition, he has managed the T20 Slam team since its creation and organises the ordering of all team kits for the club.
Andrew is key for our ground maintenance, rolling and marking squares, repairing sight screens and covers. He always comes up with innovative ideas to fix things and keep costs down. No task is too big or too small! Andrew's efforts have made it possible for us to open a new £58,000 all-weather net facility. Organising raffles and raffle prizes, fundraising events, sponsorship deals which has brought significant funds into the club. A true superstar!
Volunteer Grounds Team winners: Grounds Team – Chipstead, Coulsdon & Walcountians CC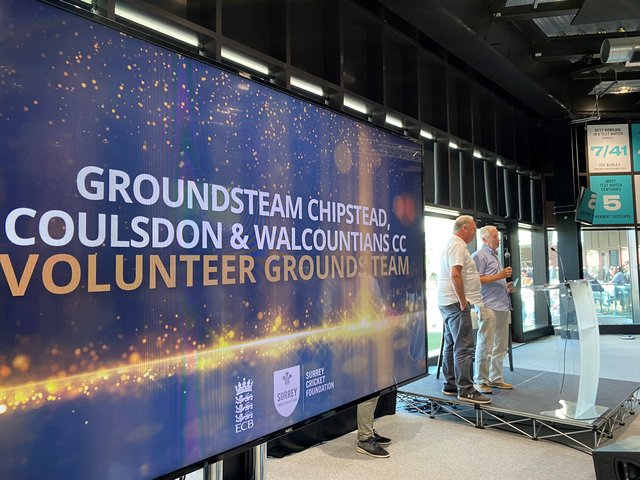 Back in 2014 with our small volunteer grounds team, CCWCC embarked on maintaining our High Road ground ourselves. Over the next 8 years, the team having grown steadily in numbers, has enhanced our overall ground and quality of pitches enormously. Not only contenting themselves with producing some of the best pitches in Division 1 cricket, but they have also ensured that all our junior teams get to play on the main square; have extended the use of the ground to regularly hosting Surrey Women's Cricket; as well as Surrey over 60s / 70s. During their spare time, they have also turned our second field from Sheep Grazing land to a small ground suitable for use by our u8/9/10 teams. Furthermore, our spectators have benefited with the building of new viewing areas; planting and maintaining flower beds to further enhance the beauty of the ground. Another string to their bow is their work in enhancing the relationships in our local community; from expertise and equipment sharing with other local Cricket grounds & Chipstead Football club; to maintaining spaces around the club on behalf of the local preservation society. Thank you for considering our very worthy team of Grass
Roots Cricket volunteers.
Lifetime Achiever winner: Andy Major – Newdigate CC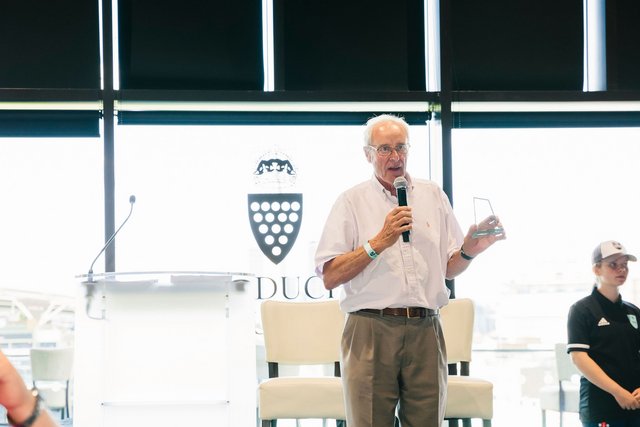 Andrew Major been an active member of Newdigate Cricket Club and Surrey's Colt Cricket system for
over 35 years. From a playing member in our midweek side, he became Chairman in 1998, a role he occupied for 16 years, finally retiring in 2014. He is still an active coach with our juniors and ladies' side, served as an umpire for our 1st XI, playing member (where required) of our 3rd XI and is currently the curator of the square, where he takes pride in consistently producing quality cricket wickets. Every week he can be found at the club, spending hours on the roller, watering the square and mowing the strips; whatever is required to get the wicket ready for the weekend. Andrew was made President after leaving his role as Chairman and continues to add value across all the playing sides at the club. He still sits on the committee and offers valuable insights to me, as current standing Chairman, from his years of experience within the club. He would be a worthy winner of the Lifetime Achievement Award.
We would like to extend our thanks to all those who nominated, and of course to all nominees and their guests for joining us for such a wonderful afternoon.