On 13th May Surrey Cricket Foundation welcomed over 40 Brownies from around the county to Esher High School to complete their All Stars and Dynamos cricket in a day!
The girls had an action-packed day of cricket activities, learning all the skills around batting, bowling, and fielding before putting them to the test in a match. Surrey Cricket Foundation's coaches were supported on the day by members of the Girlguiding community who are completing their Queen's Guides award who were also giving cricket a go for the first time.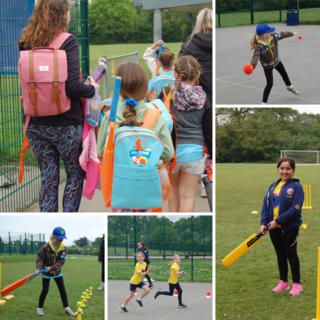 The day overall was a huge success, and really helped show that cricket is a game for girls too! When asked about the day, the girls said that playing cricket helped them feel "energised" and "happy" and that they were grateful to have been able to have fun with their friends while playing cricket and experience the day through Brownies.
We hope that this will be the first of many events that we are able to run as part of our newly formed partnership and we can't wait to host an even bigger and better Brownies Cricket Day in 2024!
If any Rainbow, Brownie or Guide units would be interested in hosting a taster session or working with the Foundation moving forward, please contact Claire Bolton (cbolton@surreycricket.com).