On Sunday 15 May we visited Milford CC, and we had 25 girls attending across four different teams ready to play some SMASH IT cricket.
We had originally planned for six teams to attend, however one withdrew in the lead up to the event and another did not show up. The four remaining teams; Spencer CC, Reigate Priory CC, Chiddingfold CC and East Molesey CC, were made into one group and all played each other across two pitches. They played round-robin games to gain points towards a festival league table.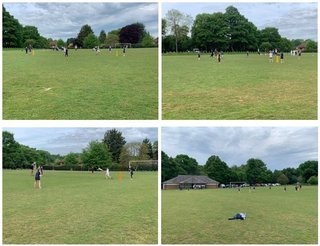 After the round robin games had been played, we planned to a round of Finals, however the weather got the better of us and the heavens opened. It was agreed between all the teams attending that as the girls had already played each other, we would call it a day and proceed with the presentation as the table currently stood.
We collected the scoresheets in and added all the relevant bonus points into the system. Below are the final standings from the day with the top three places being awarded to the following teams:
1st Place: Spencer 2nd Place: Reigate Priory 3rd Place: Chiddingfold