Throughout September we've been celebrating Women's Big Cricket Month and letting you know what our women's clubs have been up to. In case you missed it, you can read all about below:
Around the County
Our social media channels have been going non-stop, showcasing the fantastic cricket of the women and girls of Surrey, from Prosecco Cricket at Esher CC to the mums of Wimbledon CC giving cricket a go for the first time! We've seen softball games, hardball games, the formation of new teams and ladies sections, we've even seen the girls of Malden Wanderers take on their brothers and dads! Anything we've missed?
Make you check out all the amazing stories from the month on our Twitter and Facebook.
Meet our new coach!
We're pleased to announce the appointment of our new Women & Girls Community Coach, Amy Gordon. As a key member of the South East Stars squad, we're excited to make this important link with the professional game and help further integration and development at the recreational level. Welcome to the team Amy!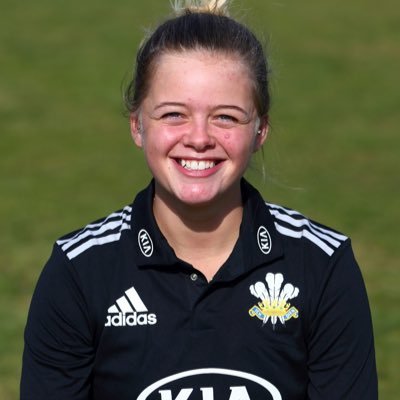 Surrey Slam Finals Day
After a full month of good news stories for the ECB's Womens Big Cricket Month, our last formal offering of September 2020 came in the form of the Surrey Slam Womens Final on Sunday 27th. It was a very cold day for all with semi-finals taking place at 1pm between Ashford Angels and Reigate Priory Lady Llamas as well as Sutton Scorchers and Spencer Spitfires. Both games saw some standout moments from a number of players and it was great to see the number of younger ladies in their late teens being involved within every side on the day. With the Angels and Spitfires coming out in winning position saw them advance to the Womens Final which started at 4pm. Spencer batted first and were restricted to 89 off their 16 overs with some terrific bowling on display from the Ashford Angels. It then came down to the chase, and although Ashford tried hard, Spencer Spitfires were tight in the field and strong in their bowling attack. This led to Ashford falling short of the required runs and Spencer Spitfires were crowned Surrey Slam Womens Champions of 2020.
Check out the photos from the day here!
This month has seen numerous good news stories, some standout superhero's who help keep their club a float and a huge amount of cricket! After a shortened season, it was great to hear how so many clubs have used this month to extend their season and really showcase the girls and ladies within their club. Cricket really is a game for all.