On Friday 25th February, Surrey County Cricket Club's Jamie Smith returned to his old primary school, Cuddington Croft, to join one of our Chance to Shine delivery sessions.
The day began with Jamie joining the school assembly where the children and staff had the opportunity to ask lots of questions. Jamie then also joined in with one of the delivery sessions, led by our community coaches Rhianna Southby and Joe Lavender.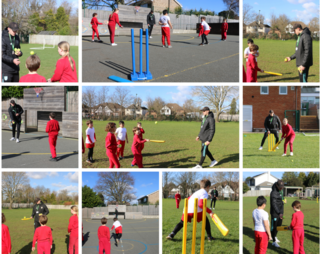 When asked what he thought of the sessions, Jamie said: "I think it's a great opportunity for them to enjoy playing sport, especially cricket. When I was their age, I didn't have the same opportunities in terms of Chance to Shine sessions at school. Hopefully the kids enjoy it, pick it up and when they're older they continue to play."
A massive thank you to Jamie Smith and Cuddington Croft School for letting us join them for the day.